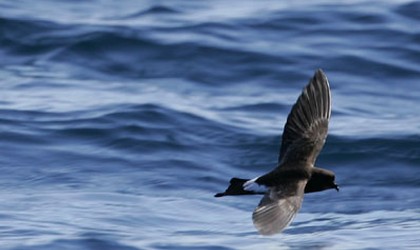 Species: pealeornis maoriana
The New Zealand storm petrel is a small storm petrel, with scimitar-shaped wings; slender-looking body; black/dark brown head, neck and upper parts (a paler but not prominent diagonal band across the upperwing coverts); white belly and flanks with dark variable streaking a constant diagnostic feature, the degree of streaking varying from minimal streaking on the belly, to an overall dusky appearance; on some birds the streaking is in a pronounced longitudinal band on each side running through the thighs. The white rump is prominent; the tail black. The long legs have toes extending well beyond the tail; legs and feet black with no sign of paler webs. Bill is black; relatively short nasal tube pressed on to the bill for its entire length.

Flight is typically direct, swift and agile (swallow-like); frequently makes rapid changes in direction. Flies low across the sea surface with rapid wing beats, interspersed with glides at times. When braking suddenly (to change direction or to drop quickly to the sea surface) primaries can flare to give the wings a fleetingly rounded appearance. They patter and dance but often only briefly, sometimes 'belly-flopping' onto the surface of the water. They run, skip and, occasionally, while flying at speed push off the side of waves to glide and even 'water-ski', alternating between one foot and the other.

When chumming New Zealand storm petrels would generally approach the boat upwind, flying low and at speed towards the slick (sometimes passing close to the boat). If birds stopped to linger over the slick they would flutter and patter, dipping to feed. Some continued flying, showing little apparent interest in the slick; others, after investigating the slick, could be observed circling round the boat/slick, flying downwind then back upwind to the slick. This pattern might be repeated several times, with additional birds flying in. By contrast white-faced storm petrels attracted would generally stay with the slick displaying their characteristic pattering feeding behaviour, and at times building to considerable numbers.

New Zealand storm petrels have been observed resting on the water in very calm conditions with Cook's petrel (Pterodroma cookii), Buller's shearwater (Puffinus bulleri), flesh-footed shearwater (P. carneipes) and fluttering shearwater (P. gavia). New Zealand storm petrels are for the most part solitary when observed while cruising; sometimes feeding in the vicinity of or amongst white-faced storm petrels (Pelagodroma marina), particularly along plankton slicks; or found in areas where fairy prions (Pachyptila turtur) have been observed. At no time have we heard them vocalise.

Chris Gaskin/Karen Baird 2005

Breeding areas
Breeding location unknown, probably Outer Hauraki Gulf Islands
Breeding season
Probably November to April
Dispersal migration
North along the warm East Auckland Current. Possibly into the north Tasman Sea.